The planned extension of Interstate 73 in North Carolina has been on the table for a while now, but it may finally be coming to fruition. Once finished, the new I-73 will extend from North Carolina to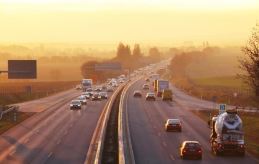 Michigan, passing through Virginia, West Virginia and Ohio, while also reaching south into South Carolina.
And just as importantly for local residents, the new interstate will provide an even faster connection between Martinsville and Roanoke.
The highway extension is set to bring an additional 47,000 jobs to Virginia over the project's nine-year lifespan.
Although the expansion has hit snags in the past, officials trying to commit to getting the first shovel in the ground within the next 10 years.
I-73 in its current state is a short spur of highway entirely within North Carolina, but the finished roadway would connect Myrtle Beach in South Carolina to Sault Ste. Marie in Michigan.
#i73expansion #martinsvilleroanokehighway