Our FAQ
Our Videos
Community News
Understanding Your Rights After an on-the-Job Injury in Virginia
The Virginia workers' compensation system is designed to protect and help workers who sustain injuries on the job. But these laws are frequently updated and amended; knowing your rights after a work-related accident isn't always easy.
That being said, here are some important things you should know if you are injured on the job in Virginia:
It's important that you notify your employer of the accident/injury right away. In Virginia, you are required by law to inform your employer of your injury within 30 days of the injury-causing accident or within 30 days of being informed by a qualified medical provider of your diagnosis.
You will most likely need to choose a doctor from a list of approved physicians. This list should be provided to you by your employer. Once you have selected a doctor from the provided list, that is your authorized treating physician.
You have two years to file a claim with the state's Workers' Compensation Commission (WCC); however, the sooner you file your claim, the sooner you can start receiving benefits. Waiting to file your claim could lead to a variety of issues, including unnecessary delays or denial.
If your claim is delayed or denied, or if you have any reason to suspect that you might experience issues with your claim, it is a good idea to work with a workers' compensation attorney. This is not required by law, but it can be a great benefit to your case. At Kalfus & Nachman PC, we do not charge any lawyers' fees until we successfully recover compensation for you.
We encourage you to contact our workers' compensation attorneys for more information about your rights and what to do after a work-related accident in Virginia. We have extensive knowledge of and experience in the law and can answer your questions.
Workers' Compensation Coverage Laws in VA
Most businesses are required to hold workers' compensation insurance. Under this law, an "employee" is anyone who falls under the following categories:
Part time
Seasonal / temporary employees
Minors
Trainees
Immigrants
Working family members
Regardless of the combination of types of employees, insurance is required for a business who employs two or more. Your employer should have workers compensation for you to use if you are injured. If that is not the case, they can be held legally responsible.
What to Do If You're Injured on the Job
There are specific laws in place if you're hurt or become sick on the job. Some are very complicated, which is why it's best to allow our workers' compensation attorneys to handle your legal process instead. One of the most important factors in workers' compensation law is that you must make your employer aware of your injury or illness immediately.
After you notify your employer, you can file a claim with Virginia's workers' compensation commission, which must be done within 2 years of your accident or diagnoses. Failing to meet deadlines may result in your claim being denied. Our team can ensure you file within the time limits to help get the benefits you deserve.
When To File a Workers' Compensation Claim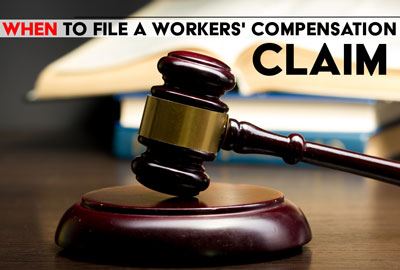 You are eligible to file a workers' compensation claim if your injury or illness occurred during the course of work, which includes accidents that happened on the job or while carrying out work-related business. For an injury to be covered by workers' compensation, it must have happened while performing a work activity at a specific time. Injuries that occurred gradually are not covered.
Our workers' comp lawyers can thoroughly answer your questions and help you understand your eligibility for filing a claim.
Workers can be injured or become sick because of the following on-the-job situations:
Slips-and-falls
Exposure to harmful substances
Harmful work environments
Employer's failure to properly protect or inform employees of harmful work scenarios
Under Virginia's Workers' Compensation Act, benefits can include:
Wage replacement
Lifetime medical benefits
Permanent and total disability
Death benefits
Employees who receive certain types of benefits are also eligible to receive cost of living increases once a year.
Filing for Workers' Compensation in Virginia
Workers' compensation can depend upon the variances in your employer's insurance. This makes it a difficult legal matter to navigate, which is why our attorneys have worked tirelessly to educate ourselves on the laws and regulations in Virginia.
Our team can work with your employer and the insurance companies to get you compensation for the following:
Illness
Injury
Abrasions
Fractures
Surgery
Disability
Being injured on the job can be frightening and concerning because you have to place your trust in your employer to ensure you get the help and the coverage you deserve. At Kalfus & Nachman PC, our team of experienced workers' comp attorneys in Norfolk have the experience you can trust when proceeding in these types of cases. Call our firm today to schedule a free, private consultation—we are located in Norfolk, Newport News, and Roanoke.
Occupational Injury & Fatality Statistics in Virginia
According to the Virginia Workers' Compensation Commission's (WCC) Annual Report for 2020, there were 45,148 major work-related injuries (that is an increase of 587 compared to the 2018 numbers) and 68,511 (that's a 34% increase compared to 2018) minor work-related injuries reported in Virginia in the documented year.
The report reveals that:
There were 286,095 First Report of Injury forms filed
There were 179,774 Second Report of Injury forms filed
When it comes to the most common types of work-related injuries, the report revealed:
11% of reported injuries were head injuries
1% of reported injuries were neck injuries
32% of reported injuries were upper extremity injuries
19% of reported injuries were trunk injuries
19% of reported injuries were lower extremity injuries
The report also revealed the most common workplace events leading to injuries:
The next most common work-related injury was a strain at 20%
The most common work-related injury was a slip, trip, or fall at 17%
The third most common work-related injury was being struck by an object at 17%
If you were injured in a work-related accident or while on the clock, don't become just another statistic—learn how you can recover workers' compensation for your medical expenses and lost wages.
Need help with your case? Contact us online or call (855) 880-8163 today! Se habla español.
---
Related Articles:
"I highly recommend Kalfus & Nachman. They were on point from start to finish. Their office called me to keep me informed every step of the way. Everyone was friendly and returned calls and e-mails promptly! Very professional!"

- Victor Gilmore

"They took the time needed to listen and explain the answers to any questions I asked. The follow-up to return my calls was excellent and the results were unparalleled."

- Nancy Lewis

"I was able to gain a sense of "calm" in the midst of dealing with an injury and all the hardship that comes with it. Thanks!!!"

- K. Williams
Our Results
We Mean Business
$2.2 Million Recovered Premises Liability
$5.1 Million Recovered Truck Accident
$7 Million Recovered Auto Accident
Meet Our team
Tell Them We Mean Business
Do I Need To Hire An Attorney For My Personal Injury Case?

Do I Need To Hire An Expert in My Personal Injury Case?

What To do In An Accident
how is Kalfus & nachman Different?
You Will Pay No Fees Unless We Win Your Case

We Have Recovered Millions of Dollars for Our Clients

Our Attorneys Are Well-Equipped to Fight Insurance Companies

We Have Successfully Handled Thousands of Cases Since 1979

We are a Full-Service Firm with Multiple Locations
free case review
Fill Out The Form Below To Get Started.
Personal Injury

,

Traumatic Brain Injuries

How To Deal With The Aftermath of A Traumatic Brain Injury

Suffering a traumatic brain injury (TBI) can have a profound impact on an individual's life, affecting physical, cognitive, and emotional well-being. As you navigate the aftermath of a TBI, it's crucial to equip yourself with practical strategies to aid in your recovery. In this blog, we will provide you with tangible and useful tips to help you ...

Read More

Elements of a Product Liability Claim

When it comes to personal injury cases, product liability claims can be particularly complex. Understanding the elements of a product liability claim is crucial for anyone who has suffered injuries due to a defective product. In this blog, we will delve into the key components of a product liability claim, providing you with actionable tips to ...

Read More

Social Security Disability

,

Insurance Companies

Understanding the Common Reasons for SSDI Claim Denials in Virginia

Navigating the Social Security Disability Insurance (SSDI) claim process poses formidable challenges. However, understanding the common reasons for SSDI claim denials can help you prepare a stronger case, especially when dealing with a disability that has left you unable to work. In Virginia, just like in the rest of the United States, SSDI ...

Read More