Our FAQ
Our Videos
Community News
Common Causes of Serious Truck Accidents
According to the National Highway Traffic Safety Administration, a person is seriously injured or killed in a commercial truck accident every 16 minutes. The most frustrating thing about this statistic is that the majority of truck accidents are completely preventable. In Virginia, I-81 truck accidents happen far too often.
Negligence in tractor-trailer accidents can usually be traced back to multiple parties, such as the truck driver, the trucking company, the truck's manufacturer, and more.
Some of the most common causes of truck accidents include:
Fatigued driving
Reckless driving
Improper truck maintenance
Overloading
Improperly-secured loads
Drug use
Intoxication
Many of these problems are a direct consequence of the competitive nature of the trucking industry. Motor carriers sometimes make their drivers' paycheck contingent on a quick delivery. Even though federal law limits the amount of consecutive hours a truck driver can legally operate their vehicle each day, drivers will often skip their mandatory rest breaks or cut corners on routine inspections - all in an effort to meet the high demands placed on them by their employer.
For more information, please see: Questions About Tractor-Trailer Accidents.
Is the Trucking Company Liable for My Damages?
In some cases, even when a truck driver appeared to act negligently, the trucking company can be held liable. In recent years, the Federal Motor Carrier Safety Administration (FMCSA) has made it harder for trucking companies to evade liability by leasing vehicles and hiring drivers as independent contractors, rather than employees. Now, trucking companies can be held liable regardless of whether they own or lease their fleet and regardless of the employment status of their drivers.
That being said, trucking companies are not always liable for accidents. In order to file a claim against a trucking company, you will need to show that it acted negligently or wrongfully in some way. Examples of this would include engaging in negligent hiring practices (e.g. failing to conduct background checks), inadequate truck driver training, and failing to penalize truck drivers who violate hours-of-service rules.
Our attorneys understand how to thoroughly investigate truck accident claims in order to determine exactly how the accident occurred and, therefore, who is liable. If appropriate, we can take aggressive action against the trucking company on your behalf.
Federal Motor Carrier Safety Administration Regulations
Commercial truck drivers need to adhere to safety rules and regulations set by the Federal Motor Carrier Safety Administration (FMCSA). Failure to follow all required rules can cause a trucking accident and increase the liability of both the truck driver and the company that employed them. When working on a client's truck accident case, we like to investigate the background of the crash and why it happened to determine if FMCSA regulation violations were at play.
A few of the most important FMCSA regulations are:
Hours-of-service: Most commercial truck drivers must not drive for more than 11 hours in a shift, which cannot exceed 14 hours. Breaks and a meal break must account for 3 hours of a trucker's 14-hour shift, with no more than 8 hours being driven before a break is taken. Although, a trucker that operates only within a 150 air-mile radius of their typical shift starting point can drive for longer and with fewer breaks.
Off-duty time: Truck drivers must take 10 consecutive hours off-duty before starting another shift by reporting themselves for duty. Rest periods can be split in special circumstances as long as no rest is shorter than 2 hours.
Maintenance: Repair, inspection, and maintenance records must be updated every 30 days by motor carriers. Windows, doors, and door-marking lights must be inspected every 90 days. Most truck drivers must inspect their trucks after every shift and create a written account to verify the inspection.
Transportation of hazardous materials: Only truck drivers with an H-endorsed commercial driver's license (CDL) are permitted to transport hazardous materials. Trucks with hazardous materials must adhere to federal, state, and local regulations regarding where the truck can be lawfully driven and parked. Certain hazardous material carriers must adhere to a lower highway speed limit and use designated truck lanes or roads whenever possible.
Trucking Companies Are Prepared for a Fight. Are You?
Whenever a commercial truck accident occurs, motor carrier companies will quickly send lawyers, investigators, and representatives to the scene of the accident with the goal of minimizing the company's liability as much as possible. Without an experienced Norfolk truck accident lawyer on your side, you risk letting key evidence slip through your fingers.
The attorneys at Kalfus & Nachman PC know the tactics that trucking companies will use to fight your claim. We can help you understand your rights, gather the facts of your case, and get your life back on track. Our firm has the resources you need to fully investigate your accident, and we will identify every party who can be held accountable for your injuries.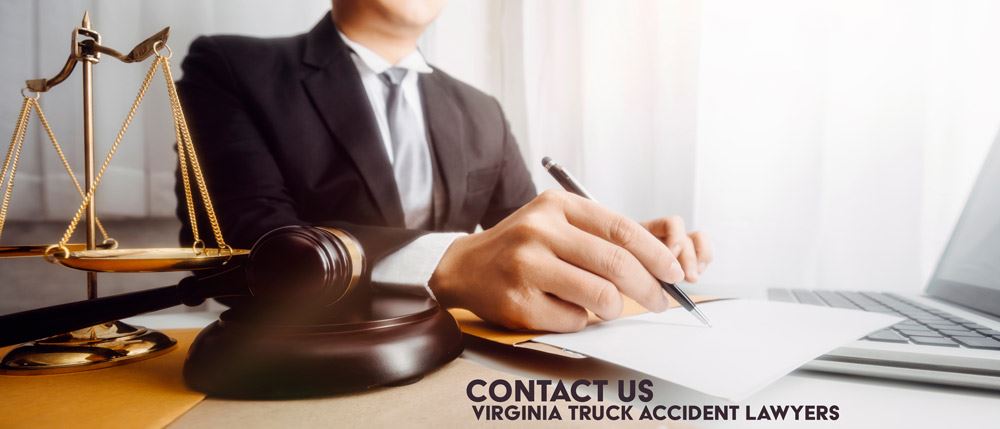 If you have been seriously injured in a truck accident in Virginia, contact our firm online or call (855) 880-8163 to schedule a free case evaluation.
Frequently Asked Questions About Truck Accidents
How long do I have to file a truck accident claim in Virginia?
You have two years to file a truck accident claim in Virginia due to the state's statute of limitations on personal injury cases. Waiting the full two years is not usually recommended because the circumstances of your accident will be fresher in your mind shortly after the accident. To give yourself an easier time recalling important details, connect with an attorney soon after a truck accident, such as within the week or month at the latest.
Can I sue the truck driver's employer, too?
Yes, there is a good chance that you will be able to hold both the truck driver and the trucking company that employed them accountable for your damages. In many legal situations, employers can be held reasonably liable for the mistakes of their employees or workers. However, if the truck driver who hit you was an independent contractor, then extending liability to the trucking company could be much more complicated. Our truck accident attorneys can help you figure out if you can hold the trucking company liable and, if so, what to do about it.
Should I accept a settlement offer from the trucker's insurance company?
Maybe. Most personal injury claims like a truck accident claim end in settlements. That doesn't mean that all settlements are fair, though. Some insurance companies like to lowball settlements intentionally to try to coerce injured claimants into taking "whatever they can get" when, in reality, they could probably get and do deserve much more. Before you accept and sign any offer, allow an attorney to review it.
How are trucking accident claims typically valued?
In a typical truck accident claim, the at-fault parties can be sued for economic and noneconomic damages, which are two forms of compensatory damages. An economic damage is one that can be related to tangible costs, such as medical bills, rehabilitative therapy costs, and lost wages. A noneconomic damage is related to less concrete concepts, such as the hardship, pain, and suffering you have endured due to the injuries or losses caused by the truck accident. When all of these damages are calculated together, the value of your truck accident claim is reached. Because truck accidents often cause catastrophic injuries, the value of such cases often reaches six or seven figures.
Are there any unique features of commercial trucks I should note after an accident?
Gathering evidence after a truck accident will be much like a car accident, except there will be additional bits of information you should note. You can identify a commercial by its license plate, but there might also be a serial or identification number printed somewhere on the cab. If you see it, take a picture. Also, if the big rig that hit you has a trailer attached, you should document the trailer's number. It is usually five or six digits and printed largely on multiple locations of the trailer, such as on the back doors and along the sides. The trailer's number could become relevant if there are reasons to believe the cargo within the trailer contributed to the crash.
---
Related Articles
"I highly recommend Kalfus & Nachman. They were on point from start to finish. Their office called me to keep me informed every step of the way. Everyone was friendly and returned calls and e-mails promptly! Very professional!"

- Victor Gilmore

"They took the time needed to listen and explain the answers to any questions I asked. The follow-up to return my calls was excellent and the results were unparalleled."

- Nancy Lewis

"I was able to gain a sense of "calm" in the midst of dealing with an injury and all the hardship that comes with it. Thanks!!!"

- K. Williams
Our Results
We Mean Business
$2.2 Million Recovered Premises Liability
$5.1 Million Recovered Truck Accident
$7 Million Recovered Auto Accident
Meet Our team
Tell Them We Mean Business
Do I Need To Hire An Attorney For My Personal Injury Case?

Do I Need To Hire An Expert in My Personal Injury Case?

What To do In An Accident
how is Kalfus & nachman Different?
You Will Pay No Fees Unless We Win Your Case

We Have Recovered Millions of Dollars for Our Clients

Our Attorneys Are Well-Equipped to Fight Insurance Companies

We Have Successfully Handled Thousands of Cases Since 1979

We are a Full-Service Firm with Multiple Locations
free case review
Fill Out The Form Below To Get Started.
Personal Injury

,

Traumatic Brain Injuries

How To Deal With The Aftermath of A Traumatic Brain Injury

Suffering a traumatic brain injury (TBI) can have a profound impact on an individual's life, affecting physical, cognitive, and emotional well-being. As you navigate the aftermath of a TBI, it's crucial to equip yourself with practical strategies to aid in your recovery. In this blog, we will provide you with tangible and useful tips to help you ...

Read More

Elements of a Product Liability Claim

When it comes to personal injury cases, product liability claims can be particularly complex. Understanding the elements of a product liability claim is crucial for anyone who has suffered injuries due to a defective product. In this blog, we will delve into the key components of a product liability claim, providing you with actionable tips to ...

Read More

Social Security Disability

,

Insurance Companies

Understanding the Common Reasons for SSDI Claim Denials in Virginia

Navigating the Social Security Disability Insurance (SSDI) claim process poses formidable challenges. However, understanding the common reasons for SSDI claim denials can help you prepare a stronger case, especially when dealing with a disability that has left you unable to work. In Virginia, just like in the rest of the United States, SSDI ...

Read More