Our FAQ
Our Videos
Community News
#HurtlineSafe Ride - Stop Drunk Driving Accidents
In order to do our part in preventing drunk driving accidents, our Norfolk personal injury lawyers from Kalfus & Nachman have launched our Safe Rides Home campaign with the Twitter hashtag #HurtLineSafeRide. Throughout the year on select holidays and major community events, you can rely on us to get you home safely – and for free! Examples of days on which we will give out free rides home include New Years' Eve, St. Patrick's Day, and Super Bowl Sunday, all three of which see significant spikes in car accidents each year due to drunk drivers.
Key details for our Safe Rides Home campaign:
You must be 21 or older to receive a free cab ride home.
Rides begin at (6:30pm EST) and will end at 12:00 Midnight.
Rides must be with Coastal Cab Service, Uber or Lyft. Coastal Cab does not service pick-ups in city of Portsmouth.
Free cab rides must be from a bar or restaurant and to your home or apartment.
You can only get one free cab ride per each national holiday or major community event.

For more information about what constitutes a national holiday or major community event for our Safe Ride Home campaign, call Kalfus & Nachman at

(855) 880-8163

.
Due to unpredictable volumes of campaign participants, we cannot guarantee that every caller will receive a free ride with our Safe Ride Home campaign. We promise to make every possible attempt to accommodate everyone. Keeping our communities safe by providing free rides home is a top priority of our Norfolk personal injury law firm.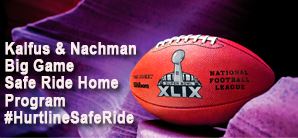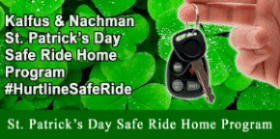 Call (855) 880-8163 or contact us at any time to learn more about this great program.
"I highly recommend Kalfus & Nachman. They were on point from start to finish. Their office called me to keep me informed every step of the way. Everyone was friendly and returned calls and e-mails promptly! Very professional!"

- Victor Gilmore

"They took the time needed to listen and explain the answers to any questions I asked. The follow-up to return my calls was excellent and the results were unparalleled."

- Nancy Lewis

"I was able to gain a sense of "calm" in the midst of dealing with an injury and all the hardship that comes with it. Thanks!!!"

- K. Williams
Our Results
We Mean Business
$10.5 Million Recovered Truck Accident
$10.9 Million Recovered Traumatic Brain Injury
$2.2 Million Recovered Premises Liability
Meet Our team
Tell Them We Mean Business
Do I Need To Hire An Attorney For My Personal Injury Case?

Do I Need To Hire An Expert in My Personal Injury Case?

What To do In An Accident
how is Kalfus & nachman Different?
You Will Pay No Fees Unless We Win Your Case

We Have Recovered Millions of Dollars for Our Clients

Our Attorneys Are Well-Equipped to Fight Insurance Companies

We Have Successfully Handled Thousands of Cases Since 1979

We are a Full-Service Firm with Multiple Locations
free case review
Fill Out The Form Below To Get Started.
Personal Injury

,

Social Security Disability

Why Do You Need A Social Security Disability Insurance Attorney?

Dealing with a social security disability insurance (SSDI) claim can be a complex and overwhelming process. From understanding the intricate legal requirements to gathering the necessary medical evidence, navigating the SSDI system can be a daunting task for anyone. That's where a social security disability insurance attorney comes in. In this ...

Read More

Personal Injury

,

Traumatic Brain Injuries

How To Deal With The Aftermath of A Traumatic Brain Injury

Suffering a traumatic brain injury (TBI) can have a profound impact on an individual's life, affecting physical, cognitive, and emotional well-being. As you navigate the aftermath of a TBI, it's crucial to equip yourself with practical strategies to aid in your recovery. In this blog, we will provide you with tangible and useful tips to help you ...

Read More

Elements of a Product Liability Claim

When it comes to personal injury cases, product liability claims can be particularly complex. Understanding the elements of a product liability claim is crucial for anyone who has suffered injuries due to a defective product. In this blog, we will delve into the key components of a product liability claim, providing you with actionable tips to ...

Read More