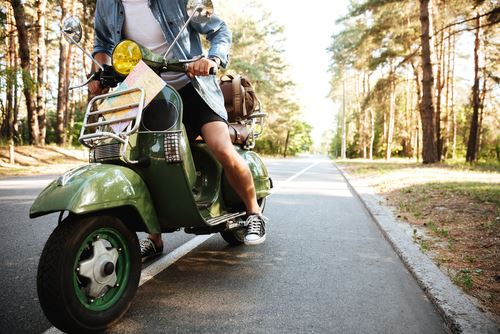 A 16-year-old is dead and another 16-year-old is in critical condition after a moped crash in Hampton on May 14, 2018.
The happened at the intersection of West Pembroke Avenue and Powhatan Parkway. Four vehicles in all were involved in the crash. The vehicles included the moped, a Chevrolet pickup truck, a Hertz rental box truck and a Nissan Maxima.
The two 16-year-olds, who were both riding the moped, were both taken to the hospital, but the driver died shortly after arrival. The 16-year-old who died was Daquan Robinson, a Hampton High School student.
The driver of the Chevrolet, a 60-year-old Hampton man, and the driver and passenger of the Hertz truck were also taken to the hospital and were treated for non-life-threatening injuries.
A police investigation discovered the moped was intending to make a left-hand turn to head south on Powhatan Parkway when the Chevrolet, traveling west on West Pembroke Avenue, hit the back of the moped.
The moped and Chevrolet were then pushed into the intersection, where both hit the Nissan Maxima, which was making a left-hand turn from Powhatan Parkway east onto West Pembroke Avenue.
The Chevrolet and moped then collided with the Hertz truck, which was stopped at the light on West Pembroke Avenue (eastbound), before coming to a stop.
The investigation is ongoing.
Virginia Law: The Difference Between a Moped and a Motorcycle
If a moped is operated in excess of 35 mph or has a motor that displaces more than 50 CCs, it is considered a motorcycle as per Virginia law.
State Law Pertaining to Mopeds
Virginia has mandated certain statutes for moped riders:
In Virginia, you must be at least age 16 to drive a moped.
Virginia law requires that every moped driver operating on Virginia roadways carry a government-issued photo ID (does not have to be a driver's license).
Every driver and passenger must wear a helmet * while riding a moped. Drivers must also wear a face shield, safety glasses or goggles unless the moped has a windshield.
Operation of mopeds is prohibited on the interstate.
It is illegal to drive a moped if your license is suspended or revoked for convictions of DUI, underage consumption of alcohol, refusing a blood/breath test, or driving while suspended/revoked for a DUI-related offense.
If your driving privilege is suspended or revoked due to a DUI-related conviction, you must be in full compliance with all requirements imposed by DMV and the court before operating a moped.
Customers with unpaid for HOT lane or toll violations cannot register any motor vehicle, including mopeds, until those fines have been paid.
* Virginia State Police-approved helmet required for moped riders. Helmets should meet or exceed the standards and specifications of the Snell Memorial Foundation, the American National Standards Institute, Inc., or the U.S. Department of Transportation.
Titling and Registration
Virginia law requires mopeds operated on Virginia roadways to be titled and registered. After applying for and DMV will issue one license plate per moped to be placed on the rear of the vehicle. When titling a moped, you will be requested to complete a Moped Certification form indicating how you intend to operate the vehicle.
If you have been the victim of an accident with a moped, call the attorneys at Kalfus & Nachman PC for a free consultation (855-880-81630).