Texting & Walking: A Dangerous Public Safety Concern
It's bad enough that we have to watch out for distracted drivers buried in their cell phones. But now drivers might even need to be wary of pedestrians.
That's because pedestrian fatalities—for the first time since the 1970s—are again on the rise, despite vastly improved vehicle safety systems.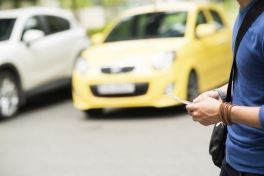 And a major reason for those higher casualties is the same cause for many traffic fatalities and accidents—texting and other mobile device use.
Amazingly, distracted drivers aren't fully to blame here. As it turns out, texting on the go, no matter whether you're walking, driving, or riding a bike, vastly increases your risk of having an accident.
Distracted walkers (so-called "petextrians") are at risk for death and injuries in situations that normally prove harmless. In the past decade, pedestrians consumed with electronic devices have walked off bridges, in front of trains, into oncoming traffic, and straight off roofs.
Some studies indicate pedestrians distracted by mobile devices tend to misjudge their path by more than 60%, which is often far more than the margin of error between stopping on a street corner and stepping in front of a car.
An Ohio State study found that more than 80% of distracted walking accidents happen to young adults between 21 and 25, and surprisingly half of these accidents even happen at home.
Some of these falls are so tragic because they could have been avoided simply by the victim coming to a stop and checking their surroundings before glancing at their phone. That's all it takes. The difference between walking from A to B and getting into a serious accident can sometimes amount to a quick peek at your phone.
Distracted Pedestrian Accident Statistics
Pedestrian accidents can be devastating. Very rarely are victims prepared for the consequences of distracted walking, because we generally expect cars to avoid hitting us at all costs. However, this certainly isn't the case. Drivers are not always aware of their surroundings, and generally feel as though they have overall command of the road, resulting in a worst-case scenario in case of an accident.
Distracted walking has unfortunately grown to be a common trend in both city and rural areas, particularly in Virginia. As a pedestrian, you are facing a unique risk due to the nature of how streets are designed, organized, and arranged--they generally favor drivers, meaning pedestrians have to be on the lookout for speeding cars, drunk drivers, road hazards, and so much more.
In fact, according to the Insurance Journal article titled, "Cities Hope Fines Will Curb Distracted Walkers," the author points out some harrowing statistics regarding various distracted walking, including texting while walking: "Safety experts point to the numbers: U.S. pedestrian deaths have been on the rise, with 5,376 in 2015 and nearly 6,000 last year, the most in two decades and up 22 percent from 2014, according to data compiled by the Governors Highway Safety Association for a recent report. (The 2016 total is a projection based on numbers from the first half of that year.)"
Contact Our Norfolk Personal Injury Lawyers Today
If you are in need of a Norfolk personal injury lawyer to advocate on your behalf in the event of a pedestrian accident, Kalfus & Nachman wants to help. Our trusted legal team is dedicated to fighting for the rights of pedestrians across Norfolk. We will work tirelessly to ensure you are able to obtain the compensation you deserve, whether it be for your medical bills, loss of work or wages, or pain and suffering.
Don't hesitate to schedule an initial consultation with a member of our firm by calling us at (855) 880-8163.