Spring Break is here again, and that means teens and college students are heading to the beach in droves—and often to foreign countries.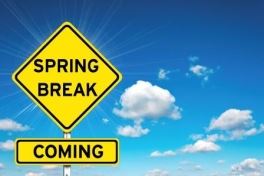 But first, a little reality check.
It's wrong to assume nothing will go wrong on your trip, just like it's wrong to assume something will go wrong.
While your planning your big getaway, keep the following tips in mind to make the most of your experience, and know when to play it safe.
Drinking
Drinking presents the biggest dangers on Spring Break, both to legal and underage drinkers.
At the end of the night, you're the only person who can look after you—but only if you drink responsibly.
Absolutely observe the liquor laws, wherever in the world you may be.
Girls and guys, never let your drink out of your sight.
Know the symptoms of date rape drugs—dizziness, confusion, sleepiness, difficulty speaking and standing.
Never drink and drive.
Never drink alone, but also don't feel the need to out-drink or match your friends cup-for-cup.
Getting Around
Even sober driving on Spring Break isn't without its risks.
When traveling long distances, take turns behind the wheel to avoid drowsiness.
Strongly consider bringing a map (yes, a paper one) when you travel—some areas don't always have cell service or data.
After leaving your hotel, make sure to have your hotel's contact information written down so you can easily get back in case of an emergency.
Call taxis rather than hailing cabs on the street—it's safer and easier to avoid scams, especially in foreign countries.
Public transportation like buses or metros are prime locations for pickpockets and muggers. Be doubly vigilant and watch your bags and pockets.
If at all possible, ditch your backpack in favor of concealable bags or wallets when walking around. You wouldn't believe how easily backpacks can be stolen.
At Hotels
Hotels—especially those abroad—still present opportunities for thieves and other nasty surprises.
Never disclose your room number to anyone who doesn't need it.
Double-check to make sure all of your rooms windows and doors lock properly.
Know exactly where all of your floor's fire escapes are.
If your hotel has a safe (it should), use it. Safes are, unsurprisingly, the safest option for storing your valuables. However, nothing you store in your room is ever 100% secure.
Your Do Not Disturb sign is a suggestion, not a binding legal agreement. Housekeeping may still enter your room when you're out, so never leave valuables lying around.
Try to avoid rooms on the first floor, or rooms on very high floors—the lower floors are easy to break in to, and the highest floors are more dangerous in case of a fire.
Swimming
Don't let your guard down in the water or on the beach—swimming is generally safe, but you have to use your head.
Always be mindful of water warning flags. Blue flags indicate safe water, while yellow and red flags indicate dangerous and deadly conditions, respectably.
Never dive in unknown bodies of water—it's impossible to tell how deep it is.
Drinking worsens the effects of UV exposure and makes swimming incredibly dangerous.
Never swim alone.
If you're swept into a rip current, don't panic. Rather than fighting the current, swim parallel to the shore until you reach calm waters.
Be cautious of overheating, even when swimming and especially when using hot tubs or drinking.
Going Abroad
No country is identical to the US, so never make any assumptions on vacation.
Pack light—there's no reason to bring flashy, big ticket items while you travel, and a lot of reasons not to.
ATMs are literally everywhere, so don't walk around with a pocket full of bills.
A vast, vast majority of robbers want your money, not your life. Don't fight with them, just do as they say and they won't hurt you.
Always keep at least one other person informed of your travel plans.
Memorize the local emergency services number.
Educate yourself about your destination's most common scams, and always be on guard if a stranger approaches you who doesn't quite seem right. Wikitravel and Lonely Planet are great resources for scoping out destinations in advance.
These guidelines aren't meant to scare you or convince you to stay home. But we're all prone to being a little naive, especially when going on vacation. The fact is, things can go wrong and are sometimes beyond our control.
Being prepared for the worst isn't paranoia—it's common sense.
So go have fun, but remember not to sacrifice your safety for a few days of excitement. It's not worth it in the long run.
#springbreaksafety #travelsafety #springvacation