The truck traffic traveling on Route 58 can sometimes be challenging for drivers of automobiles. Many drivers are traveling on this route headed to and from I-85 & I-95. It is also, a major gateway to many retail distribution centers, such as QVC, Lipton Tea and World Market.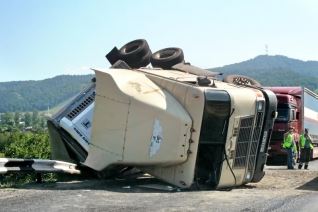 Recently a husband and wife were involved in a crash on Route 58 in Suffolk with a tractor-trailer and the woman, Jean M. Mitchell, 77, of Ivor, died. Jean's husband was driving, and she was the passenger. Robert E. Mitchell, 81, her husband is hospitalized in critical condition. Traffic lanes on this route were blocked for hours, and vehicles were rerouted during rush hour.
It was a horrific accident that occurred around 5:50 pm on Friday evening, the couple's Toyota was struck by the tractor-trailer close to the Wilroy Road exit on Route 58 west. One of the people was airlifted to Norfolk General Hospital for treatment.
Unfortunately, the passenger passed away on Friday, and the driver died on Saturday. The driver of the tractor-trailer was uninjured.
The exact reasons for the crash are currently unknown and are still under investigation.
#suffolkaccident #suffolktractortrailercrash