What an unfortunate traffic incident today. Imagen the horror the driver experienced going over the guardrail as he was driving eastbound I-264 near the Tidewater exit. The accident is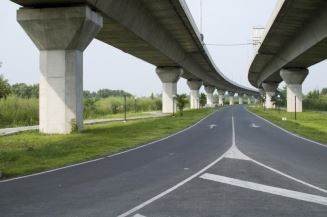 still being investigated, but the driver did survive landing on a bed of rocks under the bridge. He sustained two broken ribs and a punctured lung and is receiving medical care at Norfolk Sentara General Hospital.
If you have driven on the Berkley Bridge you know cars & trucks weaving in and out to merge onto St. Paul's Blvd and I-264 East are a problem on the Berkley Bridge. Based on a report generated by the Hampton Roads Planning Commissions, the westbound merge area is 2,200 feet, and 14,200vehicles per day (25%) must change lanes on the bridge heading west. The eastbound direction, where the accident occurred this morning (62%) must change lanes according to the Downtown Tunnel Traffic Management Plan to access their ramps. Westbound I-264 between Tidewater Drive and I-464 (which includes the Berkley Bridge) ranked ninth in a 2003 study, on the most hazardous interstate segment in Hampton Roads. On wet rainy days, please use caution as you travel across the Berkley Bridge.