On Thursday morning, a multi-vehicle crash on eastbound I-64 left traffic backed up for miles.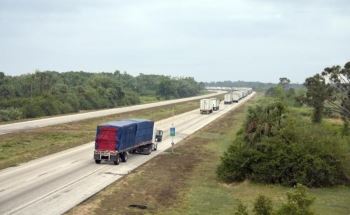 The collision occurred around 3:42 am as a tractor trailer (driven by Lawayne R. Bland, 36, of Prince George) collided with a truck covering road crews performing shoulder maintenance at mile marker 249 near Ft. Eustis Boulevard.
Bland's truck swerved off the road into a ditch, while the Department of Transportation's vehicle was forced into the left lane.
Immediately after, another tractor trailer (driven by 69-year-old William E. Robinson of Staunton) traveling in the left lane was forced to veer sharply to avoid the maintenance truck.
Robinson's truck crashed into several trees, eventually overturning. Robinson was pronounced dead at the scene.
While the Virginia State Police are still investigating, they have stated that alcohol played no role in Bland's collision with the Department of Transportation truck.
Still, Bland has been charged with reckless driving.
Distracted driving claims lives every day, and in almost every case these accidents could have been avoided. Remember, roads aren't empty late at night or early in the morning.
These are prime times for maintenance crews to work while traffic is relatively light—so if you start dozing off or staring into space, it might be a good time to take a break.
#kaflusnachman #truckaccientattorney