October through December is deer mating season, meaning you're much more likely to encounter deer on the roads.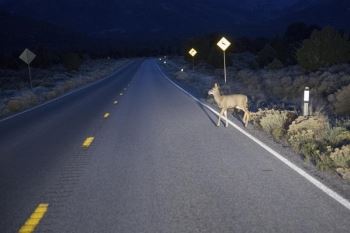 Those bright yellow deer crossing signs are there for a reason. Every year there are roughly 1.5 million collisions between vehicles and deer—leading to about 200 deaths, thousands more injuries, and over a billion dollars worth of damages.
But deer aren't lurking in the shadows, waiting to jump in front of your car at the last second. That's why understanding the safest way to approach and avoid deer crossings is key to staying safe.
First of all, never swerve to avoid hitting a deer. Yes, that sounds like terrible advice. But the fact is, a vast majority of injuries and fatalities from accidents involving deer aren't because of the deer themselves.
In reality, most damage occurs when drivers trying to avoid the animals lose control of their cars—veering into oncoming traffic, into trees, or flipping over.
The best thing you can do is reduce your speed as much as possible without turning sharply. Yes, you may hit the deer; but it's much safer than hitting another car at full speed.
Also, it's important to pay attention to marked crossing signs. When driving in areas known for high deer traffic, make sure to slow down and watch for movement on the side of the road.
Still, deer can travel long distances—so don't be surprised to see a herd pop up even in areas without signs.
Because deer are active at various times of the day, accidents can happen at almost any hour. However, the animals travel the most between 6 and 9 pm, so be extra vigilant at night.
And since deer are herd animals, don't just assume the coast is clear after a lone doe darts across the road. There could be half a dozen more waiting in the tree line.
With the slick roads and early nights of late autumn and winter rolling in, adding deer to the mix can make driving even more complicated.
Fortunately, avoiding accidents is a lot easier when you stay alert—just watch out for those bright yellow signs with the leaping deer.