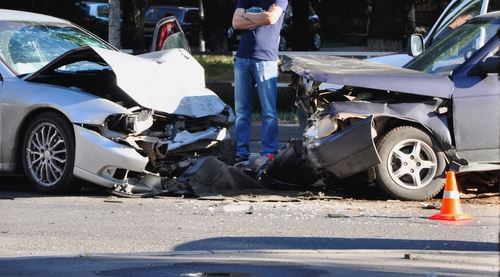 Despite driving what (on paper) are the safest cars ever, still tens of thousands of people die every year due to traffic accidents.
Cars today boast multiple airbags in the front, sides and rear, backup cameras, blind spot and lane departure warning systems, and forward auto-brake systems. Compared to the vehicles of 50 years ago, you'd be forgiven for thinking traffic fatalities should be much lower.
Besides these fatalities, millions are seriously injured every year in the US due to traffic accidents.
It's true that fatalities have dropped from its peak of more than 40k in 2005, but what accounts for the recent rise?
The National Safety Council estimates that one of the biggest factors for an increase in fatalities is a simple one—a decrease in the cost of gas. Cheaper gas means more people are driving, and more cars on the road means a higher chance of collisions.
It's also possible that the migration of buyers from bulky SUVs to fuel-efficient smaller cars has contributed to the rise in injuries and deaths, since bigger vehicles tend to offer occupants a higher degree of protection.
On a personal level, you can protect yourself from being hurt in a traffic accident by avoiding cell phone use, driving defensively, minimizing distractions, always driving well rested, wearing your seat belt, and avoiding driving while intoxicated.
#trafficdeaths #safervehicles