There are several shipping terminals in Hampton Roads; Norfolk, Portsmouth and Newport News. Every day thousands of trucks are transporting goods up and down I-64, I-264, RT 460, RT 58 and RT 13. These drives go through hours and hours of safety training to haul those big loads, but nothing prepares them for reckless drivers.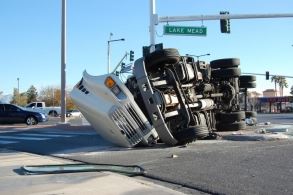 This morning a reckless driver collided with a tractor-trailer on Interstate 64 near the Denbigh Boulevard overpass after making a reckless lane change.
Virginia State Police reported that approximately 6:15 am, the driver of the tractor-trailer traveling westbound on I-64, tried to change from the left lane to the right. The driver of the Kia tried to pass the tractor-trailer in the right lane and shoulder. When both vehicles collided, the Kia spun out of control, and into the median. The driver of the tractor-trailer overcorrected and overturned.

Victoria O. Hayes was the driver of the Kia that struck the tractor trailer she, suffered non-life threatening injuries and was taken to the hospital.
The Ms. Hayes is being charged with an improper passing of another vehicle.
The driver of the tractor-trailer, who was properly restrained did not receive any injuries.