An Atlanta girl fights for her life after a dog attack that claimed the life of another child this past week.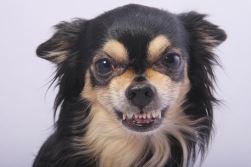 The dog's owner, Cameron Tucker, was quickly taken into custody and could face felony charges of cruelty to children in addition to two counts of misdemeanor reckless conduct.
The attack, which occurred early Tuesday morning, left 6-year-old Logan Braatz dead and 5-year-old Syrai Sanders in serious condition.
Two dogs were involved in the attack, at least one of which was a pit bull. One of the dogs was shot by police, and the other taken into custody.
While it's still up for debate if certain breeds like pit bulls are predisposed towards violence, what isn't up for debate is that owners are responsible for their dogs at all times. Dogs prone to aggressive behavior—even small breeds—can present an extreme risk to children, the elderly, and other small animals.
It's up to the animal's owner to keep pets leashed or fenced in at all times, otherwise tragic accidents like what we saw last Tuesday can occur.
Thankfully, dog bite fatalities are very rare. While more than 4.5 million bites are reported in the US each year, the CDC reports that only 20-30 result in deaths.
#dogbitefatality #atlantadogattack