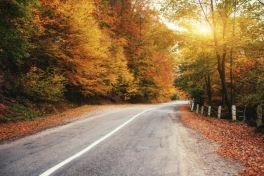 Winter and summer get most of the attention for dangerous road conditions, but fall is right behind them. Fall presents its own unique challenges for the local motorist—here's how to be prepared for whatever lies ahead.
Look out for deer.
It's deer season, and that means more and more of the animals near roadways—which form narrow barriers between the woodlands where deer live. Be extra vigilant at sunset and sunrise, when they're most active.
Let your eyes adjust.
As the days get shorter, driving in the dark becomes more common. Before you shift into Drive, let your eyes adjust to the darkness to make driving easier.
Slow down on bridges.
It might not be snowing yet, but the low temperatures can cause bridges to freeze, especially at night and in the early morning.
Don't forget about the rain.
Fall showers can be just as dangerous as summer thunderstorms and winter snow. The typically lighter rain is sometimes unable to wash away built up oil on roadways, creating slippery conditions.
Watch out for leaves.
Piles of leaves might be fun to play in, but they're a big hazard on the road. Wet leaves are extremely difficult to brake on, and piles of leaves conceal other dangers such as sharp objects, rocks, and everything in between.
Be mindful of glare.
This time of year—combined with foggy or dusty windows—can create some truly spectacular sun glare. Invest in a quality pair of sunglasses and keep your windows clean to avoid being blinded while you drive.
Prep your car.
Your car needs extra care as the thermometer drops. Remember to check your tires more frequently, replace your windshield wipers, and double-check your headlights to stay safe on the road.
Fall driving isn't without its challenges, but with a few simple precautions, you'll be well on your way this season.
#falldrivingtips #fallroadways