Sponsored by the Network of Employers for Traffic Safety (NETS), Drive Safely Work Week (DSWW) is an annual awareness campaign for—you guess it—practicing behavior to get you to and from work safe and sound.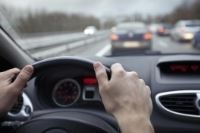 This year's theme is Drowsy, Distracted or Focused—Your Decisions Drive Your Safety.
DSWW's purpose is to provide all of NETS' employees with actionable steps to reduce their risk of crashes on the road, whether driving for work or outside of work.
The National Highway Traffic Safety Administration says that roughly 94% of ALL crashes are due to driver behavior, meaning a vast majority of crashes could be avoided simply by practicing safer driving.
This year, the campaign is focused on a few behaviors in particular:
How getting enough quality sleep affects driving ability
Recognizing the risk factors of drowsy driving
The most common behaviors behind the wheel that can cause wrecks
Why you should never use cell phones while driving
How slowing down and buckling up can make a huge difference
DSWW runs from October 3rd through 7th this year, but the toolkit may be used at any time. To check out the materials yourself—either for personal use or for your business—click here.
#drivesafelyworkweek2016 #drowsydriving #distracteddriving