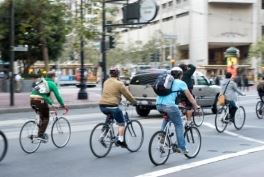 During the month of May, we join the nation in spreading awareness about bicycle safety month. Every year, thousands of Americans are injured and killed in bicycle accidents involving automobiles. This is an easily preventable accident, especially with the proper precautions.
During this month, we encourage you to learn and practice safe bicycle etiquette, but also to instruct your children in the proper ways to stay safe while riding a bicycle. Whenever you have to share the road with automobiles, dangers can be involved. However, by following some of these steps, you and your family are more likely to stay safe:
Always wear a helmet
Where reflective gear
Put reflectors on the front and back of your bicycle
Add extra mirrors to the sides of your bicycle
Put a light on the front and back of your helmet
But a light on the front and back of your bike
Always follow traffic laws, signs, and requirements
Always ride with traffic
Learn and utilize the proper hand signals in order to communicate with automobiles
May 20th is Ride Your Bike to Work Day
With ride your bike to work day quickly approaching, there is no better time than the present to learn the proper safety techniques for riding a bicycle. At Kalfus & Nachman, our attorneys hope that you and your family can not only enjoy May 20th, but also riding your bike at all times. All too often we have seen horrible injuries, because of bicycle-automobile accidents, so we hope that you and your family can take these suggestions and use them as a way to avoid such tragedies.
If you are in need of legal assistance because of a bicycle accident, please contact our attorneys today. We will help you seek the compensation you deserve in order to receive the best-possible care. You can contact us by filling out the form on this page or calling us at (855) 880-8163. We proudly serve clients in Norfolk, Newport News, and Roanoke, Virginia.