Even though a cold alcoholic drink is one of the worst ways (for our bodies) to cool off in the summer heat, we're still prone to drink more alcohol as the temperature rises.
After all, an ice-cold beer or frosted margarita has become synonymous with relaxing outside on a sweltering summer afternoon.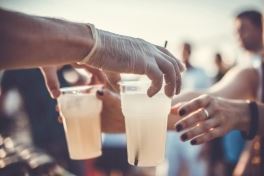 But if you do choose to drink outside this summer, keep in mind these 4 tips in order to stay safe and healthy.
1. Stay Hydrated
Alcohol causes our bodies to get rid of water, which is crucial to maintain when the weather is hot. Drinking plenty of water—more than normal—while you drink will make sure your body has plenty to counteract the effects of drinking and sweating.
2. Drink in Moderation
More-so than usual, drinking in moderation is vital during hot weather. For most adults, that means pacing yourself throughout the day, limiting your drink intake to 3 or 4 per day (at the most), and not binging on multiple alcoholic drinks at one time.
3. Stay out of the Water
Although it might be tempting to sip a drink in the pool or at the beach, combining alcohol and swimming is incredibly dangerous. By numbing your senses and slowing your reaction time, alcohol makes it difficult for swimmers to recognize and get out of danger.
4. Never Drive
If you've made plans to lay in a lawn chair all day and sip away the afternoon, the last thing you need to do is hop in the car and head across town. Before your days kicks off, make sure your cooler is fully stocked with ice and other necessities so you won't be tempted to drive later.
Lounge Responsibly
These tips aren't meant to persuade you not to drink this summer—they're just a friendly reminder that, all too often, we overestimate the dangerous effect of combining alcohol with heat, driving, swimming, or just about any other activity.
Take it slow, take it easy, relax and have a cool, safe summer.
#summeralcoholsafety #dontdrinkandswim