This Wednesday, a six-car pileup on Jefferson Avenue in Newport News during rush hour left 2 people trapped and in need of rescue.​
While all traffic lanes were reopened by 9 am the same day, the crash highlights just how easily routine drives can be interrupted with extreme consequences.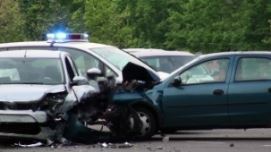 Thankfully, no one was killed in Wednesday morning's crash. However, local accidents always hit close to home—instead of a statistic you see on the evening news, these are people from our communities, people we might know personally.
That's why it's incredibly important to remain alert and vigilance at all times when behind the wheel.
Learn to look for signs of distracted driving, both in yourself and among other drivers. Wednesday's crash, according to initial investigations, was set off by a vehicle that was driving erratically, cutting in front of other motorists before veering into oncoming traffic.
While we don't yet know what the underlying cause is, suffice it to say that the crash could have easily been much worse.
Whether you're setting out on your daily commute or running to the grocery store for a quick jug of milk, always remember that our most routine drives are most prone to accidents—we're liable to let familiarity and comfort set in, letting our guard down and opening the way for problems on the road.
Stay safe out there.
#jeffersonavenuecrash #newportnewsaccident