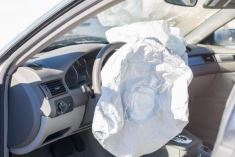 After it was discovered that there are millions of faulty airbags installed in vehicles all over the world, the U.S. Department of Transportation (DOT) issued a recall requiring Takata to replace all of these faulty airbags. Just this December of 2016, the NHTSA has amended their order stating that the airbag replacements must be done quicker and be a high priority.
The recalled Takata airbags were found in 29 million vehicles in the United States alone and were found in over 45 million vehicles worldwide. The airbags could unexpectedly rupture, sending shrapnel and debris flying at the driver and passengers of their vehicles. Airbags were exploding without warning or would inflate when they were designed to expand, but would still send shrapnel into the driver of their vehicles rather than protect them from injury. There have already been upwards of 180 injuries and at least 11 deaths due to these defective Takata airbags.
While the U.S. DOT has issued an order for the expedited replacement of Takata airbags, the National Highway Traffic Safety Administration (NHTSA) still encourages all drivers to check for any active recalls on their vehicles and have them replaced immediately. You can check the Takata airbag recall list here.
Our Attorneys Can Help
If you or a loved one has been injured due to a faulty airbag or any other defective part, please contact Kalfus & Nachman today. Our experienced defective product lawyers have countless years with successful results from these types of cases. We will help you seek retribution and compensation. Call us for a free case review at (855) 880-8163. We are proud to help those in Roanoke, Newport News, Norfolk, and the surrounding Virginia areas.