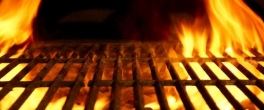 With the summer drawing to a close, there are going to be multitudes of fun, backyard barbecues and parties. Not only that, but Labor Day is a hugely popular time to fire up the grill, invite your friends over, and have a great time. What you may not know is that end-of-summer parties are one of the most common times for Americans to become injured by their gas grills. The Hearth, Patio & Barbecue Association (HPBA) offers the following suggestions to ensure that you and your family enjoy your summer cookouts without any trips to the emergency room:
Be familiar with your grills – this means that you should read your owner's manual and know how to properly work your grill. It also means you need to be familiar with usage, assembly, and specifics that apply to your grill model.
Never grill indoors – grills are meant to be used outside and never in your house, tent, or other enclosed area.
Operate grills in a well-ventilated area – never heat up and use a grill in an area with a lot of dry debris, leaves, or overhanging brush.
Follow the instructions of your propane tank – never use expired propane tanks, always have them properly refilled at a safe location, and never overfill them. Also, keep grills and propane tanks level for safe usage.
Never move hot grills – in addition to the proper usage of a grill, make sure that no one attempts to transport a grill that isn't thoroughly cooled and disconnected.
By following these safety instructions, the HPBA believes that you and your family will be more likely to have safe, enjoyable get-togethers while firing up some delicious foods to share.
Seek Help After a Burn Injury
Should the worst happen and your or a family member suffer a burn injury due to your grilling parties, please contact Kalfus & Nachman today. We proudly serve Roanoke and the surrounding communities and want nothing but the best for our members. If you need assistance, please call us today at (855) 880-8163.