After a car accident, drivers face mountains of work in the form of police reports, insurance claims and medical bills. But while you're taking care of business, you car may be running up even more expenses without you knowing it.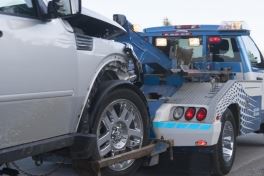 Towing and storage fees can quickly add up to astronomical proportions if you aren't careful.
When all's said and done, by the time you manage to get your car off the lot you could owe more than $1,000 in fees between storage and towing. Even worse, some insurers might flat out refuse to pay for your bill, claiming you should have known the risks and done everything in your power to move the vehicle.
And as a worst-case scenario, storage lots are allowed to sell vehicles at auction if they've been left for too long, assuming the owner was given proper notice. But you can imagine quite a few drivers are caught in a Catch-22 scenario where they simply can't afford to reclaim their vehicle, making it impossible to stop the car from going to auction.
While most towing companies are honest, the Property Casualty Insurers Association of America claims that every year dishonest towing companies cost drivers and insurers almost $600 million.
But how to avoid this mess?
First of all, carrying liability insurance isn't enough. You must carry collision insurance to make sure your towing and repair fees are also covered.
Always call your insurance company immediately after a crash—don't assume the other guy's insurers will foot the bill, even if you're 99.9% sure he was at fault.
By calling your insurance company, you guarantee your vehicle will be towed and stored by a reliable company, and your claims adjuster will work as fast as possible to get your car in the shop instead of sitting for days on a lot.
But if you've been in an accident without collision insurance and your car is stuck on a storage lot, do everything in your power to move it to a shop ASAP. The hidden costs of towing and storage can be a real killer.
#collisioninsurance #costoftowing