Our FAQ
Our Videos
Community News
Motorcycle Requirements in Virginia
Before you can legally ride a motorcycle in Virginia, you must match these requirements:
Safety exam: The Virginia Department of Motor Vehicles (DMV) requires all motorcyclists to complete a motorcycle safety examination, much like drivers must do when applying for a driver's license. Failing this course will disallow you from receiving a license.
License and registration: If you pass the mandatory motorcycle safety course, then you can apply for a motorcycle license. If you own a motorcycle, then you must also register your ride with the Virginia DMV and pay annual registration fees.
Insurance: Motorcycle riders must carry current insurance that meets Virginia's minimum coverage amounts of 25/50/20. This amount reflects $25,000 for bodily injury/death coverage per person, $50,000 for bodily injury/death coverage per accident, and $20,000 for property damage per accident. Riding a motorcycle without proper insurance can result in your license being suspended and criminal penalties.
Helmet: In Virginia, motorcycle riders and passengers must wear a helmet whenever the bike is traveling faster than 15 miles per hour. For your safety, though, it is highly advised that you wear a helmet regardless of your motorcycle's rate of travel. Of note, you also cannot wear headphones while riding your motorcycle in Virginia.
Bike design: Motorcycles in Virginia need to have installed mufflers to reduce noise contamination caused by the vehicle. There must also be functioning headlights, rearview mirrors, handlebars, footrests, reflectors, taillights, brake lights, fenders, turn signals, and horns that can be used to alert nearby motorists and pedestrians in emergencies.
Lane-splitting: It is illegal to lane-split – or swerve between traffic by going in and out of adjacent lanes – in Virginia. California is the only state that allows this riding behavior.
Safety Tips for Every Motorcycle Rider
Every rider should take it upon themselves to focus on safety whenever they hit the road. Whether you are a new rider or a veteran, it pays to review some safety tips and hints that every motorcyclist should know.
Seven quick motorcycle safety tips are: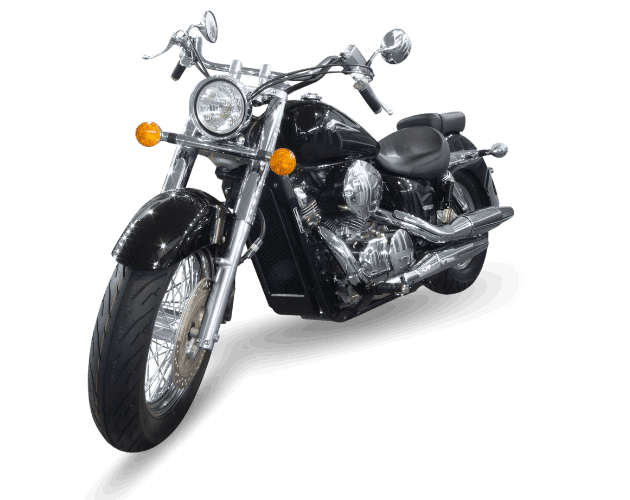 Try not to stay too close to other vehicles because this increases the likelihood that they will not see you when checking a blind spot and swerve into you.
Wear bright clothing to increase your visibility.
Use your headlight during the day.
Be sure to use turn signals appropriately, including turning them off when you are done turning.
Give extra space on one side if your motorcycle has a passenger car.
Never exceed posted speed limits.
Ride slower when it is raining or foggy.
If you need legal help after a motorcycle accident in Virginia, please remember that Kalfus & Nachman PC is standing by to assist. Call (855) 880-8163 or contact us online at any time.
"I highly recommend Kalfus & Nachman. They were on point from start to finish. Their office called me to keep me informed every step of the way. Everyone was friendly and returned calls and e-mails promptly! Very professional!"

- Victor Gilmore

"They took the time needed to listen and explain the answers to any questions I asked. The follow-up to return my calls was excellent and the results were unparalleled."

- Nancy Lewis

"I was able to gain a sense of "calm" in the midst of dealing with an injury and all the hardship that comes with it. Thanks!!!"

- K. Williams
Our Results
We Mean Business
$10.5 Million Recovered Truck Accident
$10.9 Million Recovered Traumatic Brain Injury
$2.2 Million Recovered Premises Liability
Meet Our team
Tell Them We Mean Business
Do I Need To Hire An Attorney For My Personal Injury Case?

Do I Need To Hire An Expert in My Personal Injury Case?

What To do In An Accident
how is Kalfus & nachman Different?
You Will Pay No Fees Unless We Win Your Case

We Have Recovered Millions of Dollars for Our Clients

Our Attorneys Are Well-Equipped to Fight Insurance Companies

We Have Successfully Handled Thousands of Cases Since 1979

We are a Full-Service Firm with Multiple Locations
free case review
Fill Out The Form Below To Get Started.
Workers' Compensation

,

In the News

Enhancing Workplace Safety during National Safety Month in Virginia

June is National Safety Month, highlighting the need for proactive measures and awareness to prevent accidents, injuries, and fatalities. This National Safety Council (NSC) initiative promotes a safety culture in all aspects of our lives, from homes to workplaces and communities. Kalfus & Nachman's trusted workers' comp attorneys in Virginia ...

Read More

How Making Wide Turns In a Truck Can Be Risky

From visibility issues to reduced traction, making wide turns in a truck can be dangerous and even deadly. As drivers of large vehicles, which are more difficult to maneuver on the roads, it's important to be aware of the risks associated with taking wide turns. Read this article to find out why making wide turns in a truck can be risky and how you ...

Read More

Attorney Jeffry Sachs Rejoins Kalfus & Nachman

Kalfus & Nachman PC in Virginia is excited to announce the return of Attorney Jeffry A. Sachs, who personally has nearly four decades of practice experience. Previously, Attorney Sachs was a member of our firm from 1992 to 2007, and he focused primarily on litigated cases. To further develop his already impressive litigation and representation ...

Read More