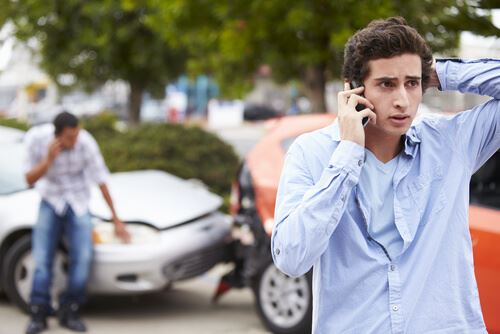 Were you recently in a crash, and now wonder whether you need a lawyer or not for your property damage claim? The answer is probably simpler than you might think. To find it, you first need to get a better understanding of filing property damage claims after a car accident.
What is a Property Damage Claim?
If you are involved in a crash with another driver, the insurance company of the driver who was responsible for the accident will assign a property damage claims adjuster to the case. This person's responsibility is to resolve the claim—for damages to your vehicle, for example—in the best interests of their employer: the insurance company.
Property damage claims are thankfully easier to resolve than a comparative bodily injury claim. While easier does not mean easy, in general, you can expect the other driver's insurance company to cover the costs associated with the repair or replacement of your vehicle. The covered costs may also include rental car fees while you are waiting for repairs to be made.
Repair costs are usually determined by a reputable mechanic. Replacement costs can be determined, or at least estimated, using online research. In cases of extreme damage to your vehicle, you may be able to file an additional claim for diminution of value.
Car Accidents That Do Not Cause Injury
If you were not hurt in your car accident, do you still need a lawyer to handle my property damage claim? Realistically, most property damage claims are pretty straightforward and might be capable of being handled by you without the direct assistance of a lawyer. You might find that most car accident attorneys will not even accept a case involving just property damage, as there is little to be earned by the attorney's law firm even if they win.
As with all things in life, though, there are always nuances and complications that could arise in your seemingly simple property damage claim. Just like some people can fix their own sink and some hire a plumber, some handle their own claim and some hire a lawyer—it all depends on the details. If you have any doubt in your own ability to understand liability law and similar legalities, you should consider talking to an attorney and possibly retain their services.
How Property Damage Compensation is Determined
For the most part, calculating compensation owed for property damage following a car accident will be based on paying whatever it costs to repair your vehicle. However, the process of figuring out that amount is not as simple as you might suspect.
Insurance companies often have trusted mechanic shops that can be contracted to conduct repairs. Insurers pick these shops because they have reliable pricing that they will agree to pay once an estimate for repairs is given. If you do not want to use their chosen shop, then you might be required to get an estimate from several other auto shops before picking one. Surveying multiple shops helps establish a fair baseline for repair costs and prevents a claimant from choosing a repair service that is much more expensive than others without justification.
Compensation for property damage can also be adjusted if your vehicle was totaled. Insurance companies will want to pay you the lowest estimated sale price for your car, adjusted based on its age or depreciated value. This is clearly unfair to you, though, since the fact that your car was operational adds to its intrinsic, true value. You will probably need an attorney's help to calculate a fair total for property damages.
When You Really Should Get an Attorney's Help
When should you definitely hire a lawyer for my property damage claim? If you are hurt at all from the accident, you really want to call a lawyer as soon as possible. Even if you only feel sore or stiff, you need to see a doctor, as you could have underlying serious injuries.
There is another reason to get a lawyer if you are injured, beyond just your health. Like it was aforementioned, the claims adjuster's interests lie with their employer, not you. The more money they are forced to give you for your claim, the more money the insurance company loses. They will be looking left-and-right for reasons to cut your recovery or compensation.
If you are not careful when talking to the insurance adjuster, they will find a way to reduce your recover. It is so easy to say the wrong thing to the claims adjuster in conversations about your property damage claim that could negatively impact your bodily injury claim. Some people have even had their bodily injury claim denied outright based on comments about their vehicle's damage, as ludicrous as they may sound.
The worst part is that you will not even know when your claim becomes jeopardized. You probably will not even know you were actually entitled to far greater compensation for your injuries—compensation to which you are legally entitled. Even if you are just a little sore after your crash, having a lawyer on your side can dramatically increase your odds of receiving proper compensation for your injuries and property.
How Can a Lawyer Help After a Car Crash?
We already talked about how hiring an attorney can maximize your compensation from a bodily injury claim, but working with a lawyer can also increase the amount you receive from your property damage claim. Lawyers know the process and the system inside and out, and know how to avoid the most common mistakes when filing these claims – the mistakes that could cost you hundreds on your damage claim and upwards of tens of thousands of dollars on your injury claim.
Protect Your Interests with an Attorney's Help
What happens if you are not hurt, the other driver was clearly at fault, and you do not want to sue anyone? Unfortunately, the other driver's insurance company has absolutely no reason to treat you fairly. While we are not saying the claims adjuster is a bad or malicious person in anyway, insurance companies are concerned with numbers and probability, not you and your needs.
Oftentimes, hiring a lawyer is the best way to ensure that you are treated fairly throughout all related legal processes. If you have recently been in a car accident, give Kalfus & Nachman a call and talk to our Norfolk car accident attorneys. We can help you fight for the compensation you deserve, no matter how stubborn or large the opposition.
Dial (855) 880-8163 or fill out an online contact form today to schedule a free case evaluation.