For whatever reason, vacationers tend to forget that beaches are public places just like a subway, restaurant or parking lot—even though you're on vacation, criminals might not be.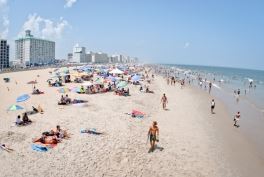 Countless beach-goers leave their belongings unattended while they frolic in the surf or meander across the sand, leaving their vacant bags ripe for the picking.
Next time you head to the beach (whether you're alone or with the family), keep these tips in mind so your phone and wallet are always right where you left them.
1. Do you even need to bring your valuables at all?
Plan ahead. Of course, there will be some days when you want to take pictures at the beach, but consider whether you need your phone, tablet, et cetera every day. Odds are, probably not.
2. Rent a locker.
If you can find a locker close to your favorite sunning spot, great. Otherwise, there may be other hourly services—such as chair/umbrella rentals or paddleboard rentals—that will also provide a locker or watch your valuables for you.
3. Buy a dry bag.
Dry bags come in many sizes, but they all do exactly what you think—keep your valuables safe, sound, and dry while you swim. The smaller bags are comfortable enough to wear in the water with you, while still keeping your phone and money safe.
The Safest Bet
Leaving your valuables locked up securely in the hotel safe is always the safest bet. Your only other options include leaving your phone or bag with bar or restaurant staff or trying to scout out trustworthy families or solo travelers who could watch your things while you swim.
Of course, those options should only be used as a last resort and are inherently risky.
But if you have absolutely no other choice and you're dying to get in the water, the option is on the table...but better to look for a locker first.