It's amazing that windshields can survive 65-mph collisions with flying rocks on the interstate without shattering. What's a little cold weather going to do? Nothing, right?
Not quite.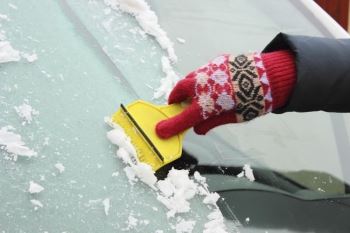 Windshields are still just glass, after all. And while car windows won't break just because it's a little cold outside, existing cracks and dings will expand and intensify when the temperature drops.
Now, there are a couple key scenarios that will aggravate cracks during winter.
If you're tempted to run outside and dump hot water all over your windshield to clear off a thick coat of morning ice, you should reconsider.
The rapid heating and cooling will cause the glass to expand and contract—sending hairline fractures zigzagging all over your windshield.
Don't hack away with an ice scraper, either. Take it slow, and let your defroster do most of the work.
Plan ahead, even if that means waking up a few minutes earlier each morning to give your car time to warm up and shake off the morning frost.
Yes, waiting for your car to heat up is a lot slower than pouring a bucket of boiling water on it. But at least you won't have to drive to work with a busted windshield.
#windshield #road safety #defroster #ice scraper