Skiing is inherently risky business, but it's a calculated risk that many Americans take every year—just like driving.
Of course, everyone worries about taking a spill down the mountain or catching frostbite. But one of the overlooked hazards on the slopes are the lifts taking thrill-seekers to the top.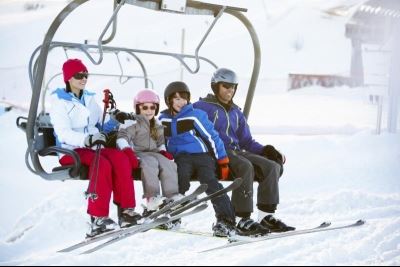 Ski lifts are prone to several errors, some human and some mechanical. Harnesses can be faulty or loose, allowing riders to slip through the cracks. The lift can jam or malfunction, requiring passengers to leap to safety below. And, lift operators may fail to take the proper safety precautions, endangering passengers.
Falling from a ski lift often doesn't mean dropping into a soft cushion of snow and dusting yourself off. The drop can be as high as 30 feet or more.
Normally, ski lifts and skiing in general are very safe, all things considered. In the past 4 decades, just 15 people have died in skiing-related accidents.
Most recently, a New York woman died falling 25 feet from a lift in upstate New York. More commonly though, falls from chairlifts result in injuries, not deaths—like the 5-year-old boy who fell from a lift in Pennsylvania last month.
With that said, you're more likely to die in an elevator than on a ski slope. Most accidents can be minimized or avoided altogether by adhering to basic safety precautions:
Don't leave children unattended, especially kids on a lift;
Bundle up;
Follow all posted guidelines and warnings;
And, always use restraints and harnesses on chairlifts.
Ski lift accidents are few and far between, so don't let a few scattered news stories get you down. And to those of you in Virginia and North Carolina planning on hitting the slopes—stay toasty and stay safe.
#skiliftaccident #skiing