Weddings are probably one of the last places you'd expect to need insurance, but maybe that's why so many couples are unprepared for the worst on their big day.
And while it seems like you can insure just about anything nowadays—whether you need to or not—sometimes taking a few extra precautions is a smart move...especially when we're talking about one of the most important events in your life.
So what is wedding insurance, what does it cover, and why might you need it? Glad you asked.
Wedding insurance, in short, reimburses you for accidents and unforeseen circumstances outside your control.
If there's any uncertainty about your wedding that's causing you to lose sleep, odds are wedding insurance can at least cover the financial cost of fixing it. That means losing security deposits because of companies going out of business, hiring last-minute replacements, so on and so forth.
To put it more simply, wedding insurance typically covers:
Site/venue cancellations;
Postponements due to military service;
Vendor delays or no-shows;
Inclement weather;
And, sickness or injuries.
Wedding insurance can cost relatively little compared to the total investment you've put into planning, but even the most expensive policies rarely top out over $600.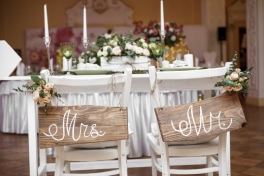 Besides that, it's important to think about liability insurance. What happens if someone is injured at your wedding and decides to seek damages? Several companies offer wedding liability insurance, if and when the worst happens.
If you're willing to spend a little extra for peace of mind, wedding insurance is a foolproof way to postpone your wedding and regroup after true disasters (at little cost to you).
That being said, many reputable businesses—such as those you rent venues from—already come with their own insurance. It's an opportunity cost you'll have to calculate for yourself, but it's great to know the option is there when you need it.
#weddinginsurance