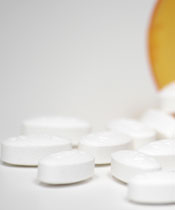 Several lots of the heart drug Digitek have recently been recalled. The reason is that they contain some tablets that are double dosage, identifiable by being double the thickness of the other tablets. A double dose could easily be fatal for a person with impaired kidneys, as their body would be unable to excrete the excess drug.
What Is Digitek?
Digitek is known generically as digoxin and is made from the foxglove plant. It's purpose is to treat heart arrhythmias and heart failure. It is also sold as Lanoxin, Lanoxicaps, and Digitalis. It is distributed by Mylan Pharmaceuticals with a Bertek label and by UDL Laboratories, Inc. under a UDL label. All lots of these forms of digitalis have been recalled.
They are manufactured by Actavis Totowa in New Jersey (formerly called Amide Pharmaceutical, Inc.), and that company has posted a news release on the Food and Drug Administration (FDA) website to warn the public of this danger. They are also posting ongoing information on their own website. One of the Frequently Asked Questions they list is:
What should I do if I'm taking Digitek?"
The answer is that you should contact your physician and get a new prescription.
On its MedWatch site the FDA is also warning cardiologists and other healthcare professionals about the danger to patients with kidney disease. Retailers are urged to return all product to the source where they obtained it.
Symptoms of Digitek Overdose
Cardiac instability
Slow heart rate (bradycardia)
Low blood pressure
Dizziness
Nausea and vomiting
If you have any digitek tablets, please contact your doctor immediately. If you would like to know more about your legal rights in this situation, our defective product lawyers are ready to consult with you at no charge. Please call (855) 880-8163, or return the form below for a free case evaluation. Our office serves Norfolk, Hampton, Newport News, Portsmouth, Roanoke, and Virginia Beach, Virginia.