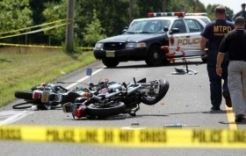 Earlier this month a Roanoke, VA woman was rushed to the hospital in critical condition after an impaired driver rear-ended her motorcycle on Interstate 73 South, near Biscoe, N.C. The driver of the vehicle, a 50-year-old male from Brandywine, MD, crashed into her motorcycle at high speed and was arrested for reckless driving and for having an open container in his vehicle.
Motorcycle accidents like these can cause catastrophic personal injury to the victim and create a lifetime of complications that not only affect those injured, but their family as well. Hospital bills add up, and rehabilitation and on-going care may be needed to address serious injuries suffered during the crash. At Kalfus & Nachman, our personal injury attorneys have over 35 years helping those who have been injured as a result of another's negligence. We can help you pursue compensation for:
Medical bills
Physical therapy
Rehabilitation costs
Home care
Pain and suffering
Funeral expenses (in cases of wrongful death)
If you've been involved in an accident that has left you with serious injuries, and was the result of another person's negligence, contact our office today at 800-361-0430 to schedule your complimentary consultation. We will fight for you to get the compensation you deserve for your suffering. We proudly represent those who live in Norfolk, Newport News, Roanoke, and nearby areas of Virginia.