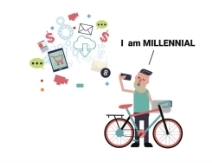 A recent report by the AAA Foundation for Traffic Safety claims that millennials—people aged 19 to 39—are the most dangerous demographic behind the wheel.
Almost 90% of millennials surveyed by AAA claimed to have engaged in one or more risky activities while driving in the previous 30 days. In particular, younger millennials (ages 19 to 24) were the most reckless behind the wheel.
AAA's dangerous behaviors include texting, running red lights, speeding, and various other high-risk activities. And as traffic deaths saw their biggest rise in five decades this past year, millennial driving behaviors are even more problematic.
What's worse is that millennials also reported not seeing their behaviors as an issue. Nearly twice as many millennials (when compared to other age groups) think it's perfectly fine to speed in a school zone.
With increasing demand for vehicles with infotainment systems and smart phone connectivity, it's not clear which direction the traffic fatality trends will head next. Laws and safety systems simply haven't been able to keep pace with our desire for 24/7 connectivity and screen time, and the numbers continue to look troubling.
If you have suffered a serious personal injury in an auto accident caused by a distracted driver, the Virginia lawyers at Kalfus & Nachman can help you receive the compensation you deserve. We have the skills and experience to battle the insurance companies, and we can help make sure your settlement adequately covers your medical expenses, property damage, lost wages, and pain and suffering. Please contact the Norfolk car accident attorneys at Kalfus & Nachman today by calling (855) 880-8163 or completing our online form to schedule your free initial consultation. We serve clients in Roanoke, Norfolk, and Newport News, Virginia.
#millennialdrivers #youngdrivers #distracteddriving #personalinjuryattorney