Last year we touched on the terrible case of a Delaware family sent to the emergency room after coming into contact with banned pesticides in their St. John rental unit.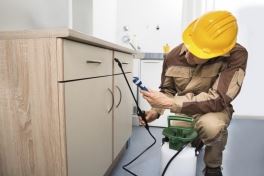 The family of 4 all began showing symptoms after being exposed to methyl bromide, a pesticide banned decades ago for residential use for causing adverse reactions in people.
Despite the ban, Terminix throughout US territories in the Caribbean continued to use methyl bromide, this time with drastic results.
Father Steve Esmond and his wife, Theresa Devine, underwent extensive therapy as a result of their methyl bromide exposure. Tragically, both of their sons suffered permanent and debilitating neurological damage.
Terminix has been financing the family's mounting medical expenses in good faith—and has paid out $10 million already—but still faces criminal charges, in part for ignoring environmental regulations.
Terminix found out the hard way that you can't skirt the law forever and get away with it. Sadly, it took a nearly fatal incident to stop their negligence. Who knows how many other families could have been injured?
At the same time, it's important not to become scared of traveling. This is a one-in-a-million tragedy, and really the perfect storm of the wrong people being in the wrong place at the wrong time.
Rather than swearing off travel altogether and locking your family inside all summer, take a minute to reflect how rare these cases are and how many thousands of families travel every year with absolutely no trouble.
Of course, you should still stay vigilant when on vacation, especially if you're heading out of the country. But that doesn't mean you should be on edge 24/7.
If you're heading to the Caribbean soon, at least you can have the peace of mind that Terminix has completely changed their pesticide policies for the better.