Denture Cream Injuries & Hyperzincuria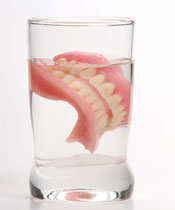 GlaxoSmithKline (GSK), the makers of Super Poligrip, acknowledged in a consumer advisory on February 18, that long-term, excessive use of their zinc-containing products may result in health risks including neurological symptoms and blood problems such as anemia.
Are you a longtime user of dental adhesives who recently noticed a lack of energy, numbness in your extremities, nausea, and a tendency to get sick more often than you used to? These may be the symptoms of a potentially debilitating condition known as zinc poisoning or Hyperzincuria. Hyperzincuria is an excess of zinc in the blood that can be caused by the use of denture creams containing zinc. It can lead to anemia and neurological deficiencies that can eventually develop into a lack of sensation and control in your limbs.
If you are experiencing neurologic effects, possibly as a result of denture cream use, contact your doctor to have your zinc levels tested. To discuss a possible lawsuit against denture cream manufacturers, please schedule a dangerous product lawsuit consultation with our product liability attorneys at Kalfus & Nachman.
Denture Creams & Zinc
Zinc poisoning is very rare. The majority of our zinc intake comes from food, and generally ranges from 5 to 16 mg per day, with 11 mg recommended for men and 8 mg for women daily. In the past, only people who worked with zinc or drank contaminated water suffered from zinc poisoning. However, the use of denture creams represents a dangerous increase in the amount of zinc a person may ingest on a daily basis.
According to chemical analysis, every gram (about the weight of a paper clip) of Fixodent and Poli-Grip denture creams contains 17 to 34 mg, or more than double the amount of zinc a person may consume from all other sources. With the dental adhesive being used in the mouth, some is ingested directly, and zinc may be absorbed through the gums as well, leading to a dangerous excess of zinc in the body. Since the National Academy of Sciences stated in 2001 that the largest daily tolerable zinc intake is 40 mg, so a person who accidentally consumes even a gram of denture cream on a daily basis is likely taking in a toxic dose of zinc, making denture cream a potentially very dangerous product.
Denture Creams & Hyperzincuria
Because of the rarity of zinc poisoning, Hyperzincuria, the cause often remains elusive, but in the August 26, 2008 issue of the Journal Neurology, researchers from the University of Texas Southwestern Medical Center identified four patients with neurological deficiencies as a result of Hyperzincuria and correlated their symptoms with the use of denture creams. After conducting an analysis of their denture creams and discovering the high levels of zinc, they took the patients off the denture cream and discovered that zinc levels dropped for three out of four of the patients. However, treatment only led to improvement of symptoms in two of the four patients.
The main danger associated with high zinc levels is resulting low levels of copper in the bloodstream. This results in degeneration of the nervous system, with effects similar to multiple sclerosis and other demyelinating disorders, including:
Loss of sensation in the limbs
Loss of control of the limbs
Weakness in the limbs
Long-term, often irreversible disability
Other effects of reduced copper concentrations include:
Anemia
Poor healing
Reduced immune system function
Denture Cream Lawsuits
Denture creams are not required to carry warnings about the potentially dangerous levels of zinc they contain, and many people are unaware of the potentially toxic effect of using these products. However, manufacturers of these products have a responsibility to investigate the potential toxicity of the ingredients they put in the mouths of users. Heavy metal poisoning is a commonly known condition, and denture cream manufacturers should have investigated the potentially toxic effect of products that contain such high levels of a heavy metal.
Past and ongoing medical expenses
Loss of earning potential
Pain and suffering
Diminished quality of life
To learn whether you may be able to get compensation for your injuries, please schedule a dangerous product consultation with the product liability attorneys at Kalfus & Nachman, today. Our Norfolk, Virginia, defective product lawyers stand ready to hold manufacturers of dental creams accountable for their negligence and your injuries. We proudly serve the Hampton, Newport News, Norfolk, Portsmouth, Roanoke, andVirginia Beach, VA area.
Posted By
Kalfus & Nachman
Categories: