Free Cab Service from Kalfus & Nachman
#HurtlineSafe Ride - Stop Drunk Driving Accidents
New Years Eve, Superbowl Sunday and St. Patrick's Day devastate many families across the country with drunk driving collisions. According to the National Highway Traffic Safety Administration (NHTSA), drunk driving accidents claim nearly 30 American lives each day, or more than one person an hour. Hundreds more each day will be injured seriously but not fatally in collisions caused by intoxicated motorists as well. Due to the excitement and festivities that surround the average holiday, drunk driving dangers tend to increase considerably on these days.
In order to do our part in preventing drunk driving accidents, our Norfolk personal injury lawyers from Kalfus & Nachman have launched our Safe Rides Home campaign with the Twitter hashtag #HurtLineSafeRide. Throughout the year on select holidays and major community events, you can rely on us to get you home safely – and for free! Examples of days on which we will give out free rides home include New Years' Eve, St. Patrick's Day, and Super Bowl Sunday, all three of which see significant spikes in car accidents each year due to drunk drivers.
Key details for our Safe Rides Home campaign:
You must be 21 or older to receive a free cab ride home.
Rides from 6:00 p.m. to 2:00 a.m. only on 12/31/2017 - 1/1/2018.
Rides must be with "Norfolk Black and White" Cab Service, Uber or Lyft. Black and White Cab does not service pick-ups in city of Portsmouth.
Free cab rides must be from a bar or restaurant and to your home or apartment.
You can only get one free cab ride per each national holiday or major community event.

For more information about what constitutes a national holiday or major community event for our Safe Ride Home campaign, call Kalfus & Nachman at

(855) 880-8163

.
Due to unpredictable volumes of campaign participants, we cannot guarantee that every caller will receive a free ride with our Safe Ride Home campaign. We promise to make every possible attempt to accommodate everyone. Keeping our communities safe by providing free rides home is a top priority of our Norfolk personal injury law firm.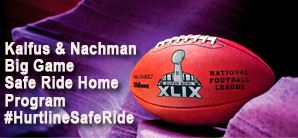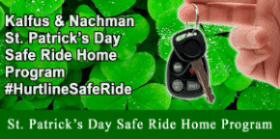 Call (855) 880-8163 or contact us at any time to learn more about this great program.